A reLive Client by Steffen Schümann
Important Notes

The current packages of reLiveQt are quite old. I have to admit, that, at least on more current macOS version, it feels sticky and takes some time off here and there. I would not recommend to use them if you don't need a feature delivered by the client. I'm sorry for that, but I cannot offer a quick fix, as stopped working on hat clients a few years ago. There will be a replacement, but it takes time to finish.
Since I packaged the application, the reLive headquarter moved to a new domain and the configured domain is no longer used by the reLive project, so to get the client working, you need to go to settings and set the root server to http://stations.relive.nu and it should be able to fetch informations.
reLiveQt enables you to tune into the reLive system for Mac OS X and Windows based on the Qt gui framework. Listening to a missed show with reLive is as close to the real thing as it gets. You hear the music, you see the tracks, you follow the chat, it only lacks some tachyon based plugin to let you take part in the discussions.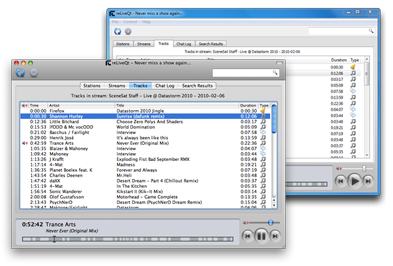 The reLive headquarter with a java applet for clientless reLive experience can be found at http://www.relive.nu and SceneSat is hosting a support forum for reLive in general.
Features
listen to a stream independently, while browsing through the stations and streams
find streams or tracks with a new search function
stations with unplayed streams and those streams are marked bold to quickly find new streams
create relive: links from any station, stream or track (using the context menu) to mail or quote them others or simply paste them into the search field for instant jump to the target or embed them in web pages like Candytron in Sound Of SceneSat Vol.1, a great track from Tron, featuring Lizette
create http://goto.relive.nu links from any station, stream or track (using context menu) working like the relive: links, but with additional support of the java relive plugin, like Candytron in Sound Of SceneSat Vol.1
local database keeps the meta data to enable fast switching, still changes will be fetched on access depending on the age of the data or by simply clicking the refresh toolbar button
configureable colors and styles for chat log with optional emoticons
select a default station, if you want reLiveQt to open that one on startup
when using Growl, reLiveQt shows title info on track changes